Facilities
VSE Campus Tour
To get to know the university campus before your arrival, you can play the video Campus Tour, so that you can explore VSE before your arrival.
Eating at school
1. VSE Canteens
Three or four sorts of pizza, salad, pasta and some desserts are offered daily.
Base Prices: soup: 25 CZK, pizza: from 73 CZK, pasta: from 79 CZK,
Opening hours: Mon – Thu: 11:00 – 14:00, Fri: 11:00 – 13:30
Many healthy meals are prepared for you. For example: couscous, fish, soup or vegetable.
Base Prices: soup: 25 CZK, main meal from 89 CZK, salad: 18 CZK  /100 g
Opening hours: Mon – Thu: 11:00 – 14:00, Fri: 11:00 – 13:30
c) Canteen – Menza:
Base prices: soup from 15 CZK, main meal from 64 CZK, salad: 69 CZK, fast food: 74 CZK
Opening hours:
Mon – Thu: 8:00 – 10:00, 11:00 – 18:30
Fri: 8:00 – 10:00, 11:00 – 14:30

Canteen Jarov is located in the Jarov dormitory campus, in the headquarters building of the VSE Central Accomodation.
Opening hours: Mon – Thu: 11:00 – 15:00
Current menu
2. Umbrella Pizza Bar
Find peaceful, delicious and homemade food canteen and café bar in the New Building. Menu is changed weekly and every main meal is offered with a soup.
Base prices: main meal from 140 CZK
Opening hours: Mon – Fri: 8:00 – 18:00
3. Kantýna VŠE:
Buy delicious refreshment during the breaks – fruit and vegetables, cookies and cakes, salads or burgers in the New Building, ground floor.
Opening hours: Mon – Thu: 8:00 – 18:00, Fri: 8:00 – 16:00
4. Café Ekonom:
Ideal place for having a break in Rajská Building (RB), 1st floor. It is possible to buy coffee, cakes, salads or baguettes.
Opening hours: Mon – Thu: 8:00 – 19:00, Fri: 8:00 – 17:00
5. Academic Club Restaurant (Restaurace AK VŠE):
Restaurant in Italská Building, 3rd floor.
Base prices: main meal from 110 CZK or daily menu from 130 CZK
Opening hours: Mon – Fri: 11:00 – 19:00
6. Microwaves:
If you prefer to bring your own food, just use the microwaves on the 1st floor in Rajská Building (RB), next to the classroom RB 107.
Computers and printers
My notebook is a macbook (Apple computer). Is it compatible with the university facilities?
The macbook is able to connect to the Eduroam network (wireless network at university), also all the web applications are compatible. The iPrint application sometimes makes problems during the initial installation, however, it should be fine afterwards. In case of ongoing problems, the Helpdesk in room SB 22 (Old Building, ground floor) can help.
Helpdesk opening hours (room SB 22)
Monday – Friday
8:30 – 11:30

12:30 – 16:00
Where can I print, copy or scan documents at the university?
First of all you need to charge money to your ID/ISIC card. Then you can pay for printing operations at the VŠE campus (see the details below). You can also find some copy centers on the way to the tram station Husinecká, where you can print, scan or copy documents.
 
Where:
Note:
Computers available for students
Computer rooms on the 1st and 2nd floor in the Old Building (SB)
not available in time of lectures
Copy and scan center
Library
print and scan for fees
Computer room on the 1st floor -> office SB 101
printers are located behind the shade
Card recharge
ID cards management – SB 22
Eduroam
Eduroam is wireless network used by international academic institutions, including our university. Please refer to
this website
(and sign in with your InSIS username@vse.cz) if you need help with setting this connection.
Library
Library can be found in the Old building.
Please, go through this
Library Guide
.
For more information and updates, please visit the
library website.
Lost and Found
In case you have lost any of yours personal belongings at VSE premises, go to "Lost and Found" in room NB 19 with your ID card and some Czech speaker (i.e. your Buddy) to ask for it. In case you have found something, follow the same process as described above.
Tutoring help
If you have any specific problems or questions or you do not understand any topic of a particular course, do not hesitate to contact your lecturer in his/her Consultation Hours, which are available on university information system InSIS (Persons at VŠE). Teachers are there on that time to discuss with you your questions about course and help you with solving any misunderstanding.
Academic Psychological Counselling
On the other hand, if you have some specific (personal) problems with studying or getting used to the new surroundings, you can contact the Academic Psychological Counselling. This service offers counselling for foreign students who come to study to the Czech Republic.
Current schedule of Academic Psychological Counselling can be found here. International students can also contact our consultants via email and make an appointment (urgent cases, etc.). We urge all students to come in the counselling hours only or upon previously agreed times.
Centre of People with Disabilities
Main target of the Centre of People With Disabilities (CPD) is to provide support and help students with diability in various areas by their study. CPD offers:
special education counseling, individual training plans;
basic social and legal advice;
Information activities in the field of assistive technologies, medical care and activities aimed at ZPO;
mediation of personal assistance services – maintenance, retrieval, errands, etc. movement.
Please refer to this site to get more information about the CPD.
University ID cards
Each VSE student is obliged to possess her/his own VSE identification card and carry it while being at VSE premises.
There are two types of the VSE ID card students can choose from:
1. Basic VSE ID card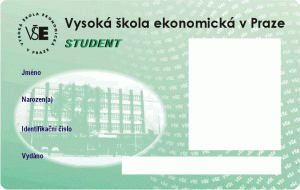 The basic VSE ID card for 290 CZK enables:
Electronic wallet (paying for printing, copying and scanning)
Paying in canteen
Borrowing books in the library
Entering the library and some classes / study rooms
Access to the dormitories
2. VSE ID card with ISIC license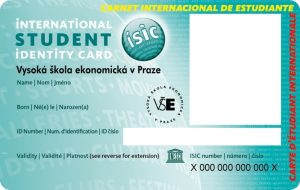 The function of the VSE ID card with ISIC license (370 CZK) is the same as of the basic VSE ID card. However, students can also use discounts in stores or restaurants outside VSE (please refer here to get more information about discounts with ISIC card).
For technical reasons, an ISIC card issued by the sending university abroad cannot be used as a proof of study when requesting for a public transport discount. Therefore, we recommend you request for the VSE ID card with ISIC license even if you have your own ISIC card.
Please have a look at this guide to see how to order a VSE ID card.
What to do if my VSE ID card was stolen/lost?
Try your luck at Lost and Found. Otherwise, you have to go to the SB 22 (Old Building, ground floor) where the new student ID card can be issued. You have to pay the same amount for the new card as at the beginning of the semester.
ID cards support (room SB 22)
Monday – Thursday
10:00 – 12:30

13:00 – 16:00

Friday
10:00 – 13:00