April 27 – Rector's Day & Battle of Faculties
On April 27, 2022, VŠE organizes the Rector's Sports Day. Since the lectures are cancelled on that day, all VŠE students are invited to participate.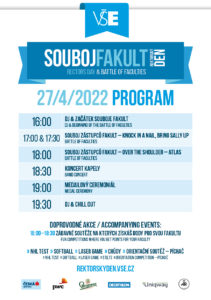 You can register for one of the sports competition:
You can also take part in following sport activities:
walk, hiking trip – meeting point  in front of the entrance to Výstaviště Praha Holešovice at 9:00, route – Stromovka – Trojská footbridge – Šutka – Čimický grove – Ďáblický grove – Prosek rocks – Vysočanský park – Rokytka – Harfa – and then with tram to – Jarov (length: 14 km)
canoeing – Sazava river, meeting point in Týnec nad Sázavou at 10:30, take your own wet suits and shoes (if possible borrow neoprene equipment), VSE will prepare boats, paddles and canoe barells, register till April 24 at vanekt@vse.cz, price – 50 CZK per person
Battle of the Faculties
On Jarov dormitory campus, selected students will represent each of the faculty in three sports events between 16:00 – 21:00:
Knock in a nail,
Bring Sally up/down,
Over the shoulder – Atlas.
In the second half of the program, everybody can win points for his/her faculty in given sport events (softball, walking on stilts, target shooting…).